Multiple retaining devices
The sliding elements are securely mounted and protected against all environmental influences by a structural glass bond. In addition, the glass panes are mechanically secured with securing pins.
Mounting
All profiles are slide-mounted, as a result of which no malfunction or damage can occur in the case of thermal expansion. The glass panes are bonded over the full surface and are thus optimally protected against the ingress of water.
Concealed running surface
The concealed running surface is protected against dirt and mechanical damage. Permanent ease of movement of the sliding elements is thus ensured.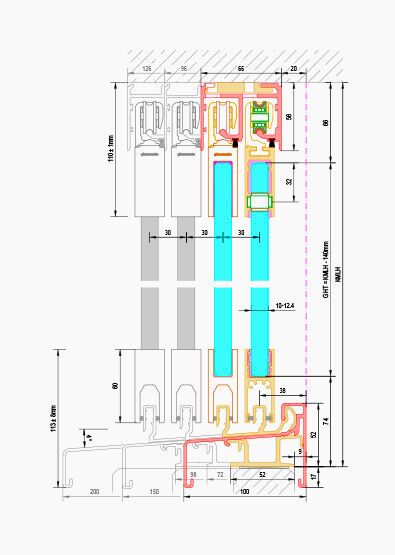 Optimal running properties
Plastic-coated stainless steel ball-bearing rollers guarantee low noise and extremely smooth running. Full greasing, a double dust protection cover and the exclusion of weather and moisture make the system largely maintenance-free.

Concealed brush seal
The concealed brush seal prevents both freezing up and whistling noises.

No tilting
The slide stopper at the end of the rail is deliberately placed at the top. Thus, it stops where the weight is hanging: the sliding system cannot tip in the end position or in case of a blockage in the lower rail.

Fixed and variable stoppers
Glas Marte offers fixed and variable stoppers. The desired position of the panes can thus be planned as standard and also adapted entirely individually. Compensation of construction tolerances Existing construction tolerances of up to +/- 8 mm are absorbed by the lower guide rail.
Combinable
The weather sill depth and the number of sliding tracks can be combined with each other individually.

Multi-track
GM TOPROLL® 10/14 is available with two to four tracks, with an opening possibility of up to 75 %.
No glass processing
The locking bolt for fixing the sliding elements does not require any glass machining.